A few days ago I shared a series of cute baby romper patterns and promised you I would be back with some more. So this is it!
Baby Girl Romper by OGE Knitwear Designs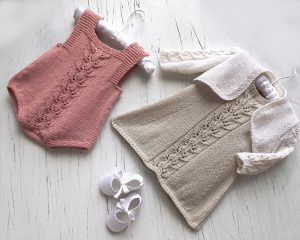 This lovely girly romper by OGE Knitwear Designs is so sophisticated! And the great thing is, it's actually a 3 in 1: the pattern includes the romper, the little A dress and the matching bolero. How great is that? All 3 pieces have the same delicate leaf pattern and can be knit in 3-6, 6-9 or 9-12 months. The designer included photo schematic for the neckline. Click here for more info.
Mia Baby Romper by Dreamiknit Designs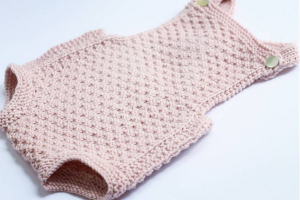 Don't you just love the vintage vibe of this sweet box stitch design? The pattern includes sizes 0-24 months and is written in English and Norwegian. You can buy it here. It's a quick and easy knit that calls for those techniques:
Cast on
Knit
Purl
Make one
K2tog
Bind off
Crochet Baby Romper by TMK Crochet Designs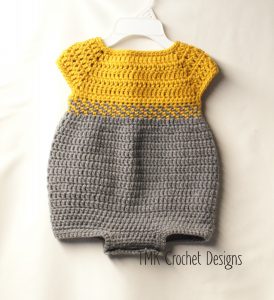 This cutie from TMK Crochet Designs includes 3 sizes: 0-3, 3-6 and 6-12 months. You can find it here. I like the rounded shoulders and the buttons between the leg openings (easy nappy changes, yay!).
To take on this project, you'll need to master the following notions:
Chain
Slip stitch
Single crochet
Half double crochet
Double crochet
Double crochet 2 together
Rumi Sunsuit by Localparitygoods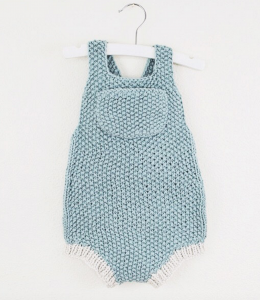 OK. I don't know about you guys, but I love a good seed stitch and this minimalistic summer romper is rocking it. I'm officially adding it to my need-to-knit list.
I'm loving the chest pocket, too. That pocket needs a mini softie [note to self: post a compilation of the cutest, a-do-ra-ble-est softies patterns]. So anyway, the straps fasten at the back with big buttons and can be crossed -or not.
You'll find the pattern here, available in 0-6, 6-12, 12-18 and 18-24 months.
You know, I sat at my computer tonight hoping to share a bunch of new gorgeous baby patterns with you, but I realize I really have to get more efficient with all the pictures/links manipulation. I always spend AGES trying to link everything correctly so that you guys can find every pattern easily, so much so that tonight, after a good 3 hours, this post is all a have to show for. But brace yourself: once a get a hang of all this HTML crap, I'll be unstoppable!