Hey guys! Tonight I have a great kangaroo sweater pattern to share with you, perfect for camping or for an evening around the campfire. But first, lets address my disappearing act… Yes, I've been away for a while. It's kind of a long story, but here's the short version.
For 10 years now I've been a self-employed copy editor and proofreader. A french copy editor and proofreader (I know, it explains a lot, doesn't it?). I worked from home, juggling clients, jobs and freelancers, and I loved every almost every minute of it. But recently, I was offered a one-year job at the government and I took it. I was the first surprised! Anyway, I started two weeks ago and believe it or not, it's been pretty overwhelming. So much so that when I finally came home at night, just the thought of sitting in front of a computer gave me nausea. Literally. [Erm. Sorry about that, I'm a BIG fan of Horrible Histories. Whenever I hear or say literally, this song starts playing in my head. Had to share.] Anyway, I was so stressed out, I couldn't think straight. So what do you think I did? That's right. I knit my ass off.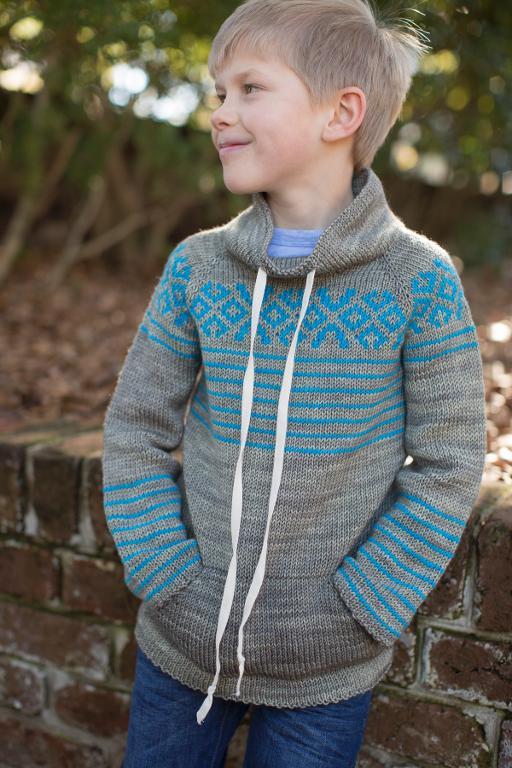 You know I've been focusing a lot on layette and baby patterns lately, but this time I decided to work on something for one of my actual kids. My son is turning 7 in two weeks and he's grown so much in the last few months, I feel like I'm always renewing his wardrobe. So when I saw this kangaroo sweater pattern from Tot Toppers, I was very excited. The designer clearly understands that kids grow like weed, so she designed built-to-let-out hems in the body and the sleeves. That way you can adjust the length as your kid grows! So clever.
Plus, as you can see, this sweater has everything moms and kids love: a warm collar, seamless raglan sleeves, a fun geometric stranded colorwork (that even a beginner like me can handle!) and most of all, a kangaroo pocket. Seriously, who doesn't like kangaroo pockets? I remember when a was a kid -and a teenager-, all my favorite sweaters had one.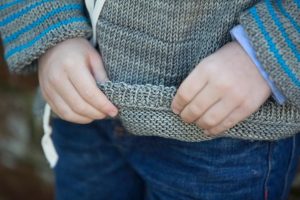 So that's what I've been working on! I'll try and post pictures soon. For now though, it's bed time cuz yep, tomorrow is Monday… But what about you? Are you still knitting this time of year or have you put your needles aside for the hot season?